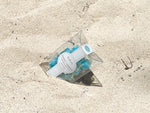 Quick Summer Travel Kit Essentials
Gone are the days when all we take to the beach is a tote bag and sunscreen. With more hot weather on the way, having a summer kit can make long days in the sun stress-free. Summer isn't over yet so if you are still planning to complete your go-to essentials, then this is a quick read for you to know what you can bring on your next beach trip.
Don't forget the SPF!
Going out for a swim? Best to choose an SPF that's water resistant and apply it all over your body and face. You may also reapply your SPF all throughout the day if needed to make sure you got the coverage you need against the harmful rays of the sun. We don't want them painful burns!
Protective gears from the sun.
The world might have changed but the sun is still as strong as ever, so don't forget to bring some summer cap and shades with you to stay cool under the scorching sun!
Bring the Nourishing Body Oil.
After bathing under the sun, we want to lock in the moisture our skin needs. So this is something you shouldn't forget to bring! Regain your body's moisture and avoid cracked and sunburnt skin so you can fully enjoy the rest of your trip with no worries!
Self care can be anywhere.
Having your care essentials in one pouch can be so convenient. That is why the Self Care Kit is made to fit easily in bags and pouches. A kit that not only sanitizes our hands but also exfoliates and moisturizes it! Inside the Self Care Kit are (2) Hand Sanitizing Wipes, (1) Waterless Hand Cleanser, and (1) Sweet + Single Candy Scrub. Choose from two of the most loved scents, Sweet Satsuma and Lavender.
---
One of the best things about all our products is that they are the perfect quick grab for self care anywhere. We made sure that our products are made travel friendly, convenient, and easy to gift to your loved ones or even yourself!