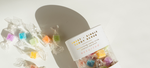 3 Tips When Choosing "On-The-Go" Self-Care Products
When choosing skincare products, there's so much to consider, is it natural? Does it pair well with my skin type? Sprinkle in the added complexity of choosing products you can bring with you anywhere, and it can soon become overwhelming.
Here's our top three tips when choosing "on-the-go" self-care products:
1. TRAVEL-FRIENDLY
There might be no worse feeling than having to dispose of your favorite skincare products when going through TSA. A quick reminder to choose products that are not only convenient but are also travel-friendly.
2. CONVENIENT TO USE
Having your care essentials in one pouch can be so convenient. That is why the Self Care Kit is made to fit easily in bags and pouches. A kit that not only sanitizes our hands but also exfoliates and moisturizes.
3. EASY TO GIFT
Not only are our products the perfect quick grab for self‑care anywhere, but they also make for the perfect gift. Shopping for someone special in your life? our products are the perfect bite sized treat to gift to a friend or family member.
--
Getting to know these tips, it may just be such an ease to pick out your "on-the-go" self-care products. Find the ones you need for your next trip or if you are planning to gift them for the holidays to your loved ones.
Find your next on-the-go favorites here.