This store requires javascript to be enabled for some features to work correctly.
simply the best
Our products are hand made and intentionally created with premium natural ingredients
CRUELTY FREE
no animals ever harmed
NATURAL INGREDIENTS
natural & organic ingredients used
VEGAN
no animal products here
COMPOSTABLE
our wrappers are made of compostable cellulose
CRUELTY FREE

no animals ever harmed

NATURAL INGREDIENTS

natural & organic ingredients used

VEGAN

no animal products here

COMPOSTABLE

our wrappers are made of compostable cellulose
HOW TO USE: SWEET + SINGLE CANDY SCRUB
Real Reviews
I use your products every day. Can't say enough good things about them. Love giving as gifts to special friends.

Terri

Bonblissity products are amazing! The sugar scrubs are my personal favorite. They exfoliate and moisturize like nothing I've ever used before!

AIMIE M.

These scented cubes are pretty, delicate, individually wrapped and would be beautiful in a dish on the vanity for guests or for you to indulge. Leave your hands silky smooth by exfoliating and then moisturizing.

Patricia N.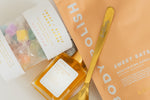 A MUST PURCHASE!
My hands look, smell and feel great. Friends are even noticing them. You have to try this product. Lavender is my fave. Also makes great gifts
- Joan L.