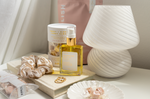 The Power of Retailing for Beauty Estheticians: Boost Your Business with Bonblissity Products
Are you a skilled beauty esthetician looking to enhance your business and provide an extra layer of value to your clients? Retailing might just be the key to achieving both these goals. In this blog, we'll explore why retailing is beneficial for service-based beauty estheticians and how Bonblissity, a brand known for its high-quality beauty products, offers wholesale opportunities to support business owners in the industry.
Why Retailing Matters for Beauty Estheticians
Service-based beauty businesses, such as estheticians and salons, often focus on providing top-notch services like facials, waxing, or skincare treatments. However, retailing products like skincare items, bath and body products, or beauty essentials can complement your services and benefit your business in several ways.
Enhanced Customer Experience: By offering retail products, you provide your clients with the opportunity to extend their spa-like experience at home. Clients love having access to the same high-quality products you use during their treatments.
Additional Revenue Stream: Retailing can be a profitable revenue stream. It allows you to earn income beyond your service fees. As your clients love your work, they're more likely to trust and purchase the products you recommend.
Personalized Recommendations: Estheticians can make personalized product recommendations based on their client's unique skin type and concerns. This not only enhances the client's results but also builds trust in your expertise.
Client Loyalty: By providing high-quality retail products, you're strengthening client loyalty. Clients who regularly use your recommended products are more likely to return for services and repurchases.
Brand Credibility: Retailing established, reputable brands like Bonblissity can enhance your salon or spa's reputation. Clients associate your business with quality and professionalism.
Bonblissity's Wholesale Offers for Beauty Estheticians
For beauty estheticians and service-based beauty businesses, partnering with the right brand for retail products is crucial. Bonblissity, a well-known body care brand, offers wholesale opportunities to support business owners in the industry.
Here's why Bonblissity is a fantastic choice for beauty estheticians:
High-Quality Products: Bonblissity is renowned for its high-quality bath and body products. The brand's bath fizzies, sugar scrubs, and body oils are crafted with care and designed to provide a luxurious experience.
Wide Range of Products: The brand offers a diverse range of products, making it easy to cater to different client preferences. From refreshing bath fizzies to nourishing body oils, there's something for everyone.
Customized Solutions: Bonblissity offers customizable solutions for businesses, ensuring that you can select the products that align with your services and clientele.
Eco-Friendly Commitment: Bonblissity is dedicated to eco-friendly practices, using cruelty-free and sustainable ingredients. This aligns with the growing demand for sustainable and natural beauty products.
Wholesale Support: Bonblissity's wholesale program provides the support you need to integrate their products seamlessly into your business. From competitive pricing to marketing support, it's a partnership designed for success.
In conclusion, retailing can significantly benefit beauty estheticians by enhancing the client experience, increasing revenue, and building brand credibility. Choosing a reputable brand like Bonblissity for your retail products can help you provide high-quality offerings and support your business's growth. So, why not add an extra layer of value to your beauty services with a thoughtful retail selection from Bonblissity?
For more information about our wholesale program, check out our website here.