This store requires javascript to be enabled for some features to work correctly.
A little bit goes a long way. We've compiled some simple tips on how to use our travel-friendly treats to indulge your skin.
How to Use: Sweet + Single Candy Scrub
1. Crush a candy scrub into hand along with a few drops of water.
2. Firmly rub your palms together to create a paste-like texture.
3. Once spread out onto palms, gently massage onto hands and arms.
4. Rinse with warm water. Pat dry.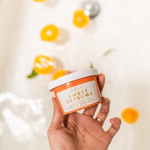 How to Use: Shower Sprinkle Body Scrub
Each cup contains a dry-ish, soft form (like sorbet!) of scrub, Just apply to wet skin and massage.  Contains 4+ uses, depending on areas of use.
TIP: For the best experience, use at the end of a shower!
1. Scoop out a little bit of our Shower Sprinkle into hands.
2. Apply to wet skin and massage onto body.
3. Concentrate on any rough areas.
4. Repeat as needed.
5. Rinse off before coming out of shower.
shop shower sprinkles
How to Apply ÉdgeU Gel Nail Wraps
1. Remove oil & water from nails with the alcohol prep pad.
2. Apply gel wrap securly along the cuticle line.
3. File off any excess gel strip.
4. Cure for 1-2 minutes with UV/LED lamp.
5. Apply top coat.
6. Cure for 1-2 mins with UV/LED lamp
How to Remove ÉdgeU Gel Nail Wraps
1. Place 3-4 drops of Remover Serum wherethe cuticle and gel nail meet.
2. Leave on for 5-10 seconds.
3. Use the wooden stick to gently push from the edge of nails.
4. Place additional drops if needed.