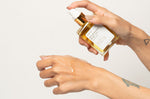 Body Oil: What are the benefits and how to use it
A healthy, soft, and glowing skin is every person's dream. And in achieving so, we all know that there are endless options in the market. But most importantly, keeping our skin moisturized goes beyond its appearance and feel. So, choosing the right moisturizer for your skin type is essential.
Body oils, such as Bonblissity's very own Nourishing Body Oils, can help you achieve not just a beautiful supple skin, but also a healthier one. The ingredients infused in these body oils were intentionally added to nourish the skin from within.
What are the benefits?
There's a long list on why body oils can be beneficial. Here are just some of the top reasons why:
Body oils are actually non-greasy; As opposed to body butters or lotions, body oils moisturize the skin without a heavy and greasy finish. Its fast-absorbing and immediately leaves the skin feeling soft than greasy.
Soothes and heals dry skin; The changing weather is one of the main factors for skin to become dry. May it be the cold air, lack of humidity, or overexposure to the sun further harms the skin barrier that also adds to the loss of moisture and hydration. Body oils on the other hand, replenishes the moisture and soothes dull and dry skin.
For glowing skin; Regular massaging with body oils, improves skin texture and its elasticity. It also helps exfoliate the skin and rejuvenate it, giving us a clear, healthy, glowing complexion.
For overall health and well-being; Massaging the body with oils also help improve blood circulation, reduces muscle pain, and gives relief from joint pain. With regular use, it may even help reduce stress and anxiety. It detoxifies the body that pushes out toxins that helps us relax and frees us from negative energy.
How to properly use it:
Of course, there are plenty of ways to use body oils but here are some top helpful tips on how to efficiently use body oils for healthy, hydrated skin:
Shaving - Body oils can be a wonderful alternative to shaving creams. It easily softens the skin making it easier for hair removal while protecting it from drying.
Cracked heels, dry hands and elbows - A lightweight and fast-absorbing body oil is a great alternative for heavy and sticky foot creams. If you're somebody who hates the feeling of greasy creams, then this is the best alternative for you.
Drop some in the bath - Now, this is one place your regular lotion and body butter can't go. Adding a few drops of body oil to the bath allows the moisturizing process begin as you soak while relaxing to the fresh scent of Citrus and Vanilla.
Post-shower moisturizing- Lock in moisture and keep your skin feeling soft and supple all day or all night. Just pat your skin dry and apply a few drops of oil all over the skin while it's still damp.
Soften your cuticles - Gently massaging a drop of oil around the cuticles and nails eases dryness and adds subtle sheen. This also helps replenish your nails' moisture while giving it some time to rest from your usual mani and pedi. Also best paired with our best-selling Signature Sweet+Single Candy Scrubs prior to oil application.
Yes, indulging in a skincare routine that includes body oils for glowing skin and a healthy complexion can take some added effort. But in those little time, it is rest assured that our skin will stay soft and nourished. Just like our face routine, the rest of our body is just as crucial, thus, also require some protection and TLC.
Finding an organic oil such as Bonblissity's Nourishing Body Oils is the answer to our whole skincare routines. A cruelty-free and earth-friendly oil that revitalize our skin, body, and mind.