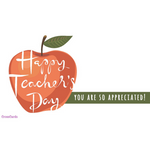 Ditch the Pencil Cups - Best End-of-School Teacher Gifts That Teachers Will ACTUALLY Use! (June 19, 2018)
Your kids' teachers do a lot, and they deserve recognition for their hard work. End-of-school teacher gifts are a great way to say "thank you for putting up with little Johnny all year." We've put together our favorite rest-and-relaxation inspired teachers gifts below. This year, ditch the pencil cups and macaroni art and get your favorite teacher something she'll actually use!
Candy Scrub - poor teachers. They're around germy kids day in and day out, and are exposed to every sniffle, sneeze, and cough within a 100-yard radius. Teachers wash and sanitize their hands all day, which can lead to dryness and irritation. Our candy scrubs are the perfect all-natural, moisturizing, deliciously-scented alternative to harsh soaps and alcohol-based sanitizers.
Fun fact: Bonblissity was dreamed up when our founder Elissa had the same problem! She was working as a dental hygienist, having to wash her hands multiple times a day. She created the Candy Scrubs as a way to clean her hands while avoiding the harshness of regular soap or the need for lotion, and Bonblissity was born!.
Vegan Soaps - one of our newer products, our vegan soaps are AMAZING. These aren't the beige-colored, patchouli-scented vegan soaps you find at the natural food store. First of all - they're so pretty! Almost too pretty to use, but once you smell them you'll want to use them right away. Made from natural, plant-derived organic and vegan ingredients, the organic shea butter keeps your hands smooth while the natural essential oils leave a refreshing scent on your skin and in your powder room. Perfect for sensitive skin, they're free of sulfates, parabens, and phthalates. We love giving a set of two of these, or including them in a larger gift basket.
Body Truffles - at the end of a long school year, teachers need a break. Give a spa experience with an assortment of body truffle scrubs and bath bombs. Handmade with natural ingredients, these come in a variety of scents. We recommend getting an assortment of scents, and throwing in a Bonblissity gift card so they can restock on their favorites! Bath Gift Sets - If you really want to get a special end-of-year teacher gift make a bath gift set with our products.
A box of candy scrubs, two vegan soaps, a few bath bombs, and a handful of body truffle scrubs will last them throughout the summer. You can even throw in a gift certificate to a local spa for the ultimate relaxation!
At Bonblissity, we appreciate the hard work, caring, and effort that teachers put into their jobs, and we believe in giving an end-of-year gift that they'll love. Start shopping here!
 Published June 19, 2018